CLIMB TO THE GLORY IN COMPETITIVE MODE
Ranking mode is extra content if players want to get serious and get more rewards or experience. That place is full of serious Brawlers but still allows team fighting, but the difficulty is more complicated, and there are more strict rules. The player's ranking progress is also divided into many different levels, and they will receive more rewards as they climb higher in their career.
FLUID ANIMATION AND FUNNY EFFECTS
Besides the magnificent content and features in the gameplay, Brawl Stars also possesses lovely 3D graphics, adding humor to the overall game. The visual effects and skills are also unique, and they change based on each player's outfit or skill implementation. Also, because of its exquisite graphic element, the player's experience is absolute and refreshing whether they go through countless fierce battles or amazing content.

DESIGN MAPS FOR EXTRA FUN
Level design will open up new possibilities for players to create and bring more fun to everyone in the community. Fortunately, the map design system is quick and straightforward to master. The game has a separate category for everyone to refer to or download new levels to enjoy with friends. However, custom maps can only be valid in practice matches, while official matches are entirely different.
Brawl Stars is one of the most entertaining and exciting MOBA games as its content is friendly and simple. It also focuses on team play, so almost every game mode or its content allows players to explore with friends and more.
THE GAME NOW HAS 7 DIFFERENT MODES
Gem Grab (3v3): Out-think the opponent team. Win with ten jewels, but get fragged and lose them.
Showdown (Solo/Duo): Collect Brawler power-ups. Be the last Brawler standing in the most raucous battle royale ever. All for one!
Brawl Ball (3v3): A new Brawl! Score two goals before the other team. No red cards here.
Bounty (3v3): Kill opponents to gain stars, but don't be killed. The team with the most stars wins!
Heist (3v3): Protege your team's safe while attacking your opponents'. It would be best if you navigated the map to go to the enemy's wealth.
Special Events: Limited time PvE and PvP game types.
Championship Challenge: Qualify for Brawl Stars esports!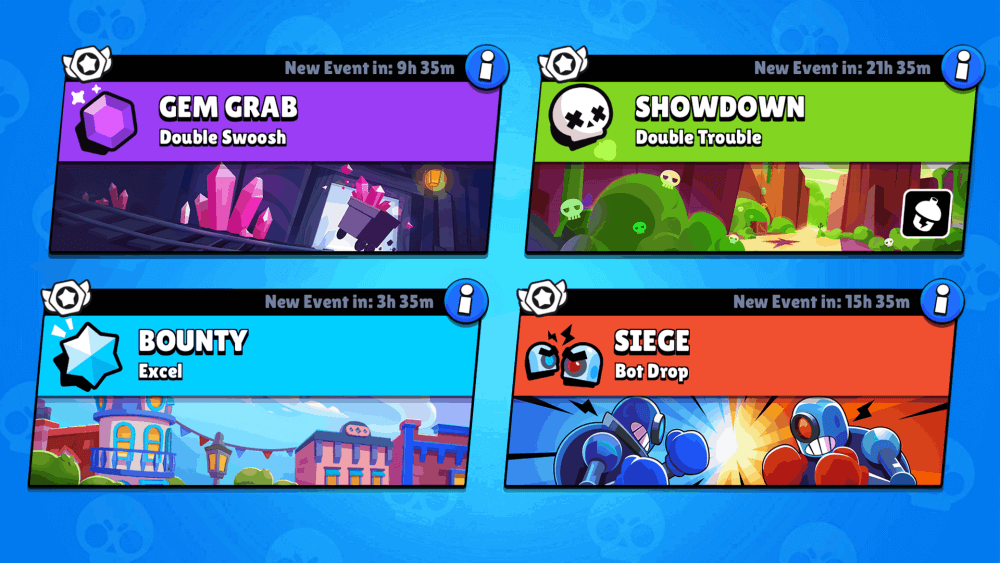 KEY FEATURES
Participate in 3v3 battles against players from all around the world that are broadcast live on the internet.
A multiplayer battle royale mode that is tailored for mobile devices and is fast and intense.
As you go through the game, you'll be able to unlock and collect new, strong Brawlers, each of whom has their own unique attack and Super ability.
Daily updates include the addition of new events and game kinds.
You have the option of fighting alone or with a group of friends.
You have the potential to get to the top of the leaderboards on both the global and local levels.
To trade advise and participate in combat with other players, you may join or start your own Club.
Unlocking new skins allows you to personalize the look of your Brawlers.
A new and challenging landscape to conquer is provided by maps developed by gamers.